Eclectic Elements by Coats and Clark Fabric
I'll be honest, I was cleaning my sewing room and pulled out some UFO projects that well... yeah I need to finish and I came across these charms packs. I bought four charm packs a long time ago and they have been sitting in my fabric shelves for awhile. When I was flipping threw the colors on the charm pack I kept thinking to myself, Holy Crap! Why haven't I not made something with this by now?!? I couldn't understand because I am in love with this fabric line. I now want to go buy a fat quarter bundle, layer cake, jelly roll, and 100 of yardage lol. Here is another image below of the fabrics used at a larger sale for you all to view. (Image is Missouri Star Quilt Company)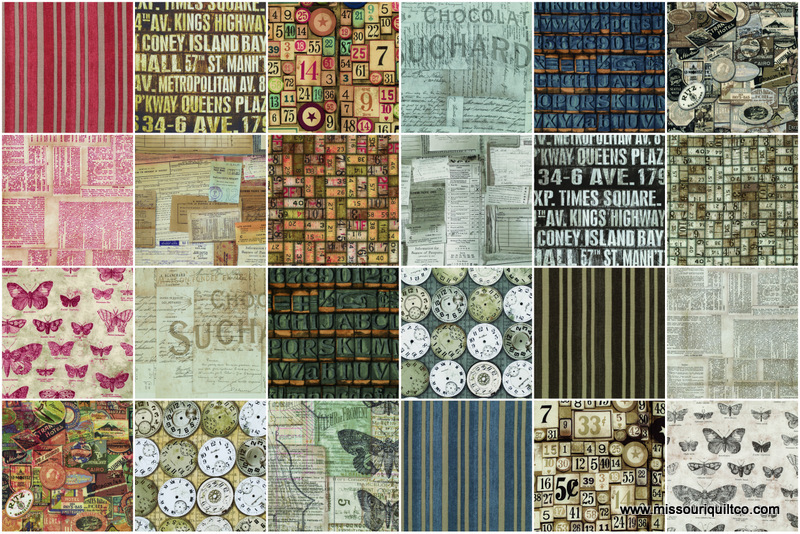 So the pattern is called Treasure because I was going threw my fabric stash and found this lovely "treasure" that I needed to NOW make something with it!
Fabric:
- One Layer Cake in Eclenctic Elements by Tim Holtz for Coats & Clark
or 4 Charms Packs from the same line.
[40 assorted 10" squares]
- One Solid Layer Cake (Kona Fabric Black) or 4 Charm Packs from the same color.
[42 solid 10" squares]
- Binding 3/4 yard
- Backing 5 yards
Piecing:
1. With both print and solid layer cakes you are going to cut into 4 - 5"x5" squares. (If you are using charm packs then you do not need to do this step.
)
2. Then using my half square triangle method (the first way), you will do that with all your 5"x5" squares, solid with print. Press open to the dark side.
3. From matching patterns, form this block below using 4 half square triangles. (You'll be making a total of 84 squares, two from each layer cake)
4. Then using the blocks you made in step 3, start forming 4x4 blocks like below. (You should have 21 blocks total

.)

5. Next lay out your quilt with forming 6 rows across and 7 rows down using the block created from step 4. Sew your rows and columns together and you are done with your quilt top.